Aloha is for greeting and showing affection….but sure it'll suffice to express whatever sensation you get after having a taste of this royal pork! It's one heck of a manly project so trust no better resource than the editors of the artofmanliness blog to put this one together. If there's one lesson I've picked from this -apart from the skill obviously- it is that, it's always good to have a Hawaiian friend! One who can show you how to cook a Whole Pig underground with all the natural herbs and spices and the blessings from mother earth.
MODICUM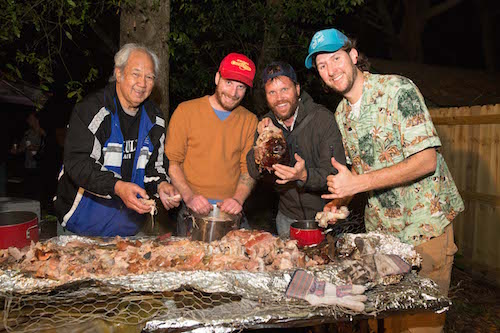 Now roll up your sleeves and let's get to work, for this is no child's play and at this point, every tad of muscle power and determination is paramount to see this to a successfully tasty end.
Let's start this most important lesson by jotting down a good piece of advice from source:
Cooking a pig in the ground is more than just a novel way of cooking food — it's a cultural experience, and one that you'll best appreciate if you familiarize yourself with its methodology.

The pit that you cook the pig in is called the imu, and the meat that it prepares — noted for its soft, moist consistency — is called kalua pork.

The most important ingredient for cooking a pig in the ground? Plenty of aloha put into every step.
To prepare pork Hawaiian style we'll need a few sophisticated supplies but not items that are difficult to find:
A location near a hose
A whole pig
A banana tree or substitute (cabbage and corn husks)
A pound of rock salt
At least three burlap bags
A sheet of canvas, at least 8' x 8'
Chicken wire, about 8′ (order non-galvanized online, if you have time)
Aluminum foil
Solid rocks or bricks that won't hold water inside
Shovels
Post-hole digger or fire tongs
A very sharp knife
A saw (for banana tree)
Lots of firewood – about an eighth of a true cord will work. In layman's terms, at least a half full pickup truck bed worth, or 20 bundles from the grocery store. It's easiest (and cheapest) to call a local supplier and have them deliver.
Leather gloves
A few feet of flexible wire (to tie the legs together)
12 to 20 feet of chain
A wireless thermometer or two (not required, but helpful)
Step 1: Dig the pit (a.k.a. Imu)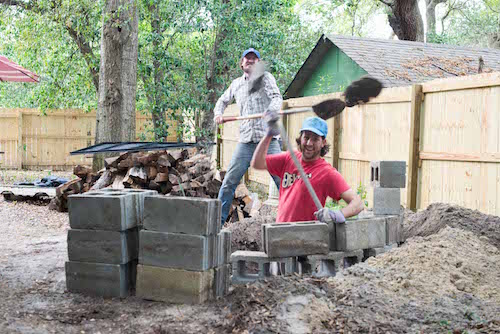 Step 2: Start the fire: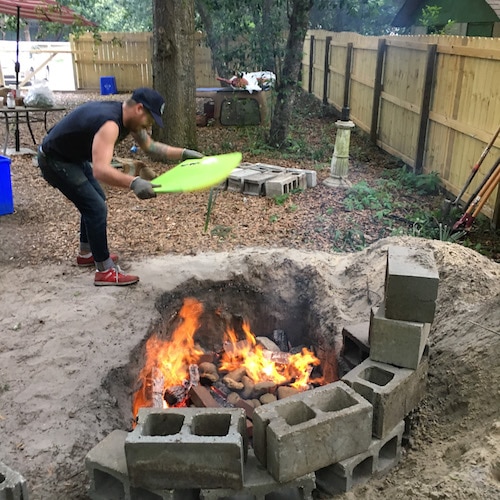 Step 3: Prep the Pig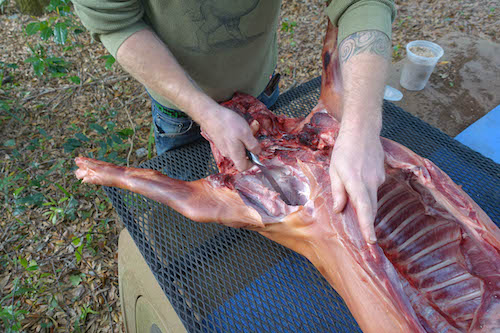 Use a knife to score the pig along its back and ribs, making incisions every couple of inches. Stuff rock salt into each incision.

Open up the "pits" of the pig so that hot rocks can be placed inside.
Step 4: Banana cuts
Cut up the banana tree trunk. You'll use pieces of it now to stuff the pig, and pieces of it later to line the cooking pit.
Step 5: Wrap the Pig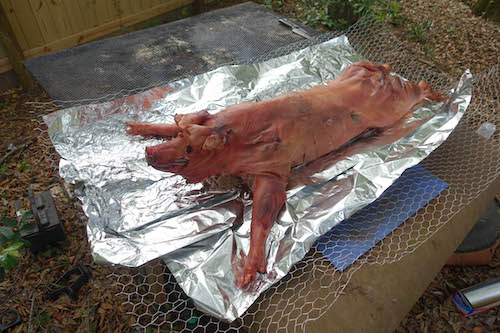 Step 6: Bury the Dead
Now's the time to place your digital thermometers. We placed one in the shoulder and one in the hindquarters. Stick the metal sensor deep into the flesh and run the cable out and over the edge of the imu.

The last prep step is to add water. Pour in 3 gallons of water around the sides of the imu (just lift up the edges of the canvas to pour it in) to create even more steam on the hot rocks. Then immediately fill the imu back in with dirt.

As you add dirt onto the imu, look for spots where steam is escaping. Cover and plug those holes with dirt — that's heat getting away that you need for cooking.
Step 7: Raise the Dead
For a 100-pound pig, let it cook for eight hours. With a 200-pound pig, give it 12 to 14 hours.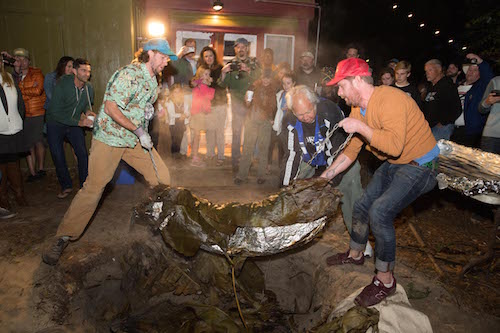 Congratulations
Aloha! It's time to celebrate!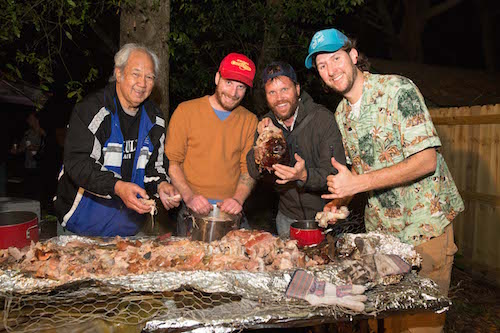 There's goes our summarised version of a pretty elaborate guide you can find on the artofmanliness blog. Have you tried this before? If yes, do share your experience. If not, how about you plan for it these holidays and do not forget to share!
Credits: artofmanliness.com